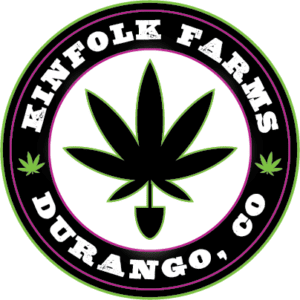 Durango, CO, Marijuana Dispensary
Welcome to Kinfolk Farms, the only Durango marijuana dispensary with its own on-site grow facility! Kinfolk was the first licensed marijuana grow in La Plata County, and we've been providing Durango with high-quality, affordable flower, concentrates, and much more for over seven years.
Our number one goal is to provide our diverse customer base with a friendly and comfortable environment where they can learn about and purchase our cannabis products.
We believe the thing that separates a good recreational weed store from a great one is not just offering the best products or the best deals but offering the best experience, which includes a great staff with a dedication to quality customer service.
Our Staff
Whether you're an old pro with a comprehensive knowledge of every known strain and its effects or a curious newcomer with little to no knowledge of the cannabis world at all, we welcome you to come and chat with our friendly and knowledgeable staff.
They can guide you to the product you're looking for, suggest a product you've never heard of, or enlighten you on anything you're curious about.
A big part of what makes any recreational weed store feel welcoming is giving the customer the space and time to ask any question without being made to feel silly and without ever feeling rushed. We'll go over all of our products with you and give you exactly as much time as you need to make the perfect selection.
What We Offer at Our Durango Marijuana Dispensary
Half of the fun of a recreational weed store is stopping by and perusing all of the various cannabis products they have to offer. We always encourage our customers to do exactly that when they want to get to know our menu (which is why we have a viewing window to our grow right on the dispensary floor).
However, it can be a whole lot more convenient and comfortable for some to check out our products before they stop by our Durango marijuana dispensary. If that sounds like you, keep reading to learn more about all of the flower, concentrates, edibles, and other assorted high-quality cannabis products we've got on the menu.
We've got plenty of high-quality flower grown right at Kinfolk Farms, but we've also got some incredible strains from some of Colorado's top grows. All flower is handpicked by our purchasing manager with a focus on terpenes, bud structure, and the type of high that customers can expect.
Cartridges & Concentrates
When you're looking to take your cannabis experience to another level, cartridges and concentrates are the way to go, but you always want to make sure your products are held to as high a standard as possible.
We offer concentrates made from our own in-house flower grown on-sight with proprietary genetics.
We are the premier retailer for Green Dot Labs in the Four Corners, and they offer some of the finest vape cartridges and concentrates around.
Eating your cannabinoids is an experience unto itself. Check out our wide selection of delicious gummies, mints, chocolates, sodas, teas, and more, all from some of the top brands in the industry.
We've got various alternative methods for enjoying your cannabinoids at Kinfolk Farms. Tinctures and topicals are a great way to take in some THC or CBD (or both!) without the need for smoking, vaping, or eating anything at all.
It may look pretty and smell great, but cannabis flower is actually kind of useless all on its own. Whether you're in need of a pipe and some screens or a lighter and papers to make use of your weed, or even a cool cannabis-related hat and t-shirt combination to wear while you toke up, we've got you covered.
And Much More!
The products listed above are just a small sample of what we have to offer at Kinfolk Farms. We're always on the lookout for different products that not everyone in the area carries, so come check out our selection for a unique buying experience. Can't find what you are looking for? Just ask us and our purchasing manager will try and locate product(s) for you!
Why Choose Us?
At Kinfolk Farms, we know just how many recreational weed stores you have to choose from in Durango and all across Colorado.
We also know that, in order to make sure that we're the Durango cannabis dispensary you ultimately choose, we need to offer products, services, and an overall experience that makes us stand out from the crowd. We believe we meet those criteria for the following reasons:
On-Site Grown Flower
You won't find another dispensary in Durango that offers products grown right there on-premises. We offer top-quality Farm to Bowl products at very reasonable prices.
Hand-Picked Products
Everything we offer that wasn't grown in our facility was personally selected by our trusted purchasing manager to ensure a level of quality that can rival our own.
Welcoming Environment
If you're over 21, then you are welcome at Kinfolk Farms! Customers of any legal age are encouraged to come down and check out our products in a friendly and inviting environment.
High-Quality Customer Experience
We pride ourselves on customer service. Our budtenders will take time with each and every customer to help find the perfect product for them. For locals and frequent visitors, we also offer a loyalty program to help you save money on future purchases.
Testimonials
We pride ourselves on providing our customers with convenient and affordable access to high quality recreational cannabis and related products, all in a comfortable and welcoming environment.
"This IS the absolute best place to shop in all of Durango. I know because I've shopped them all! The staff is always friendly and super helpful. I come in a couple of times a month and it's always a joy. They have anything you could possibly want. And they have specials every day of the week. I love it!"
"I found the staff to be very knowledgeable, friendly, and helpful. They are the best in Durango as far as price product and staff go's hands down. they also have the best rewards program that I have found."
"This is my go to place for any and all things cannabis. The crew is awesome with great attitudes and stellar recommendations. I recommend try what they suggest, you can't go wrong."
"I am a a regular here and have been with Kinfolk since it opened. I remember meeting the owner and her mom... What a great 1st meeting we had. To this day always friendly and knowledgeable staff and prices are always fair."
Send us a message and we will get back to you with our knowledge and expertise.